Healthy Popsicles You'll Want To Eat All Summer Long!
Summer is here. And so is the summer-frozen-treats-problem! I'm just going to assume that you're like me and suddenly start to crave an ice cream-cold drink-frozen treat run every other night when the weather warms up. Those CHILLED SWEET Iced Teas you guys! KILLER.
So to save the day, figuratively, I've rounded up some popsicles that might help you melt less. 🙂
I love that I only have to walk to my freezer now to get my perfect summer treat! I guess I know how I'll be spending the rest of my end-of-summer afternoons:
1. These Refreshing & Soothing Honey Chamomile Popsicles

These popsicles are a wonderful way to celebrate the awesomeness of Chamomile & Honey! Together, they pack a frozen punch no one can refuse…
Check out the recipe here
2. Cool Down the Temperatures with these Herb Infused Popsicles!
Frozen berries & herbs? Hell Yes! These cooling popsicles are perfect when soaring temperatures leave you absolutely melting…
Get the recipe here
3. Juicy, Ripe Peaches Frozen? Ummm, yes please!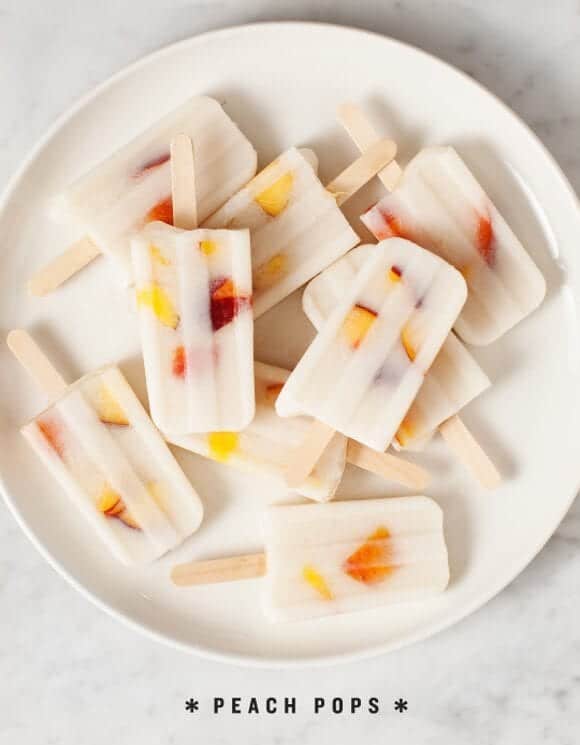 There's only one thing more summery than juicy, ripe peaches: Juicy, ripe peaches frozen into sweet, melty, almond milk popsicles! It's summer on a stick, friends.
Check out the recipe here
4. These Kiwi Coconut Chia Popsicles that Scream SUMMER!

Kiwi slices floating among a sea of coconut chia pudding! No wonder these popsicles are a satisfying breakfast treat!
Get the recipe here
5. Anyone for a Mojito – Oops I mean a Lime + Mint Popsicle!

These will definitely be making an appearance at my next party (or maybe I'll just keep them for myself!)
Get the recipe here
6. Chop. Blend. Freeze. These Strawberry Popsicles we NEED in our life!
Creamy, sweet, and slightly tart strawberries mixed with chia seeds to create frozen perfection! I'd say this is a pretty good situation that we ALL need in our lives. Every day. All summer long.
Get the recipe here
7. These dessert pops that combine our love for Chocolate, Peanut Butter & Banana!
If you're in need a of a sweet, but healthy treat or just want a new way to consume your morning smoothie, then these Chocolate, Peanut Butter, Banana, Yogurt Pops are for you!
Get the recipe here
Related Posts